Missed us at OTC? Watch oil and gas expert Giovanni Taverna review our line of heavy-duty brakes for offshore energy applications! (VIDEO)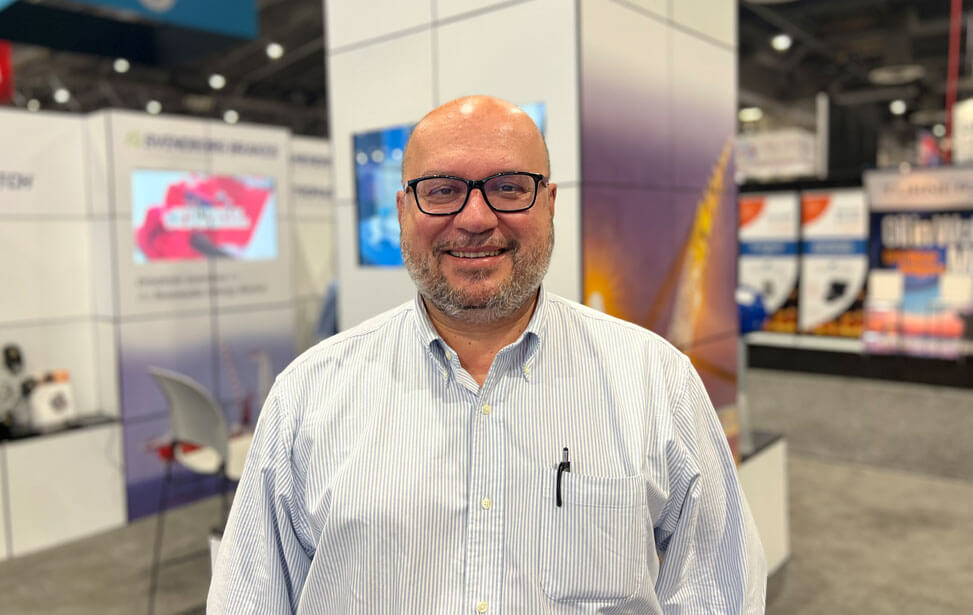 Our brakes are utilized on winches, in marine propulsion drivetrains, on drawworks, and more. Learn about six of our key powertrain solutions for the offshore energy market.
Earlier this month, the brands of Regal Rexnord attended the annual Offshore Technology Conference 2023 in Houston, Texas, May 1-4.
Like the offshore energy market itself, our company is global. Many of our colleagues traveled to OTC from across the world; Twiflex's Tony George flew from Bedford, UK, while Svendborg's Tyler Calvert traveled from Denver, Colorado.
For Giovanni Taverna, however, OTC was a short drive from his home in Dallas.
Giovanni is our Global Sales Director for Oil & Gas. He's spent the last decade working on behalf of our brands, advancing our braking technologies, and helping to grow our industry. Giovanni earned his master's degree in engineering from Politecnico di Milano in Milan, Italy, in 1994. Today, he knows the offshore energy market inside and out!
Watch Giovanni's 6-minute heavy-duty brake overview
In his 6-minute overview, Giovanni describes our 6 brakes on display at OTC 2023:
What is "the heart of the oil drilling rig?" Drawworks! That's where you'll find Wichita Clutch AirMaKKs & Svendborg Double Piston brakes
Giovanni Taverna: One of our biggest brakes is our Wichita Clutch AirMaKKs SSB … A spring-applied, pneumatically released brake. This brake is used on drawworks.
You know, the drawworks is basically the heart of the oil drilling rig. So it's a very important component in drilling and exploration.
And in particular, the role of this brake is to intervene in case of emergency when there is a problem of power failure or failure of other components. This is the brake which needs to stop the load from crashing on the floor of the rig. … putting at risk human life, the environment in case of oil spill, or gas explosions.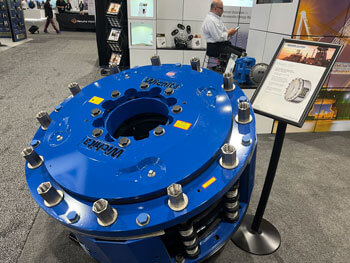 Also on drawworks … another solution for static and dynamic braking … this is the Svendborg Double Piston hydraulic caliper.
Again, spring-applied, oil-released. This is a brake particularly applied in offshore oil rigs.
Due to its size, it's a very powerful brake. So it's particularly indicated for deep water drilling. So we're talking about drawworks over 3,000 Horse Power.
The advantage of this brake is to supply a very high braking force, in a very compact size. So it's particularly indicated not only for the new AC drawworks, but also for the conversion of all the DC drawworks with older design of brakes, in order to update the design to more modern, higher performing brakes.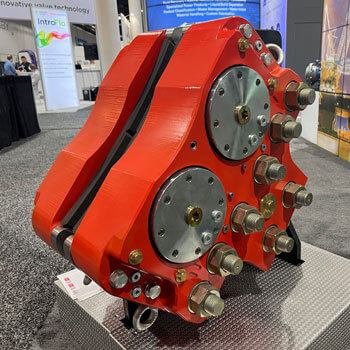 When it comes to marine propulsion, Twilfex calipers are the name of the game
GT: Starting with the Twiflex GMR caliper brakes … These are typically brakes going on the propeller shaft, for marine propulsion. In this case, for offshore support vessels, like workboats, tugboats … and now also the vessels involved in the installation of wind farms in the sea.
This is an air-applied scissor designed caliper brake. So again, a very compact design supplying high braking force. And it's typically installed on the propeller shaft, in order to ensure a better maneuverability and a higher level of confidence in inverting the rotation of the propeller shaft on these types of vessels.
…And here again, we have Twiflex T40 hydraulic caliper brakes – oil-applied. Again, a typical solution for propeller shafts. In this case, very compact. Very easy to install. Very easy to be set up and maintained in the engine room of the vessel. And these are typically used to stop and lock the propeller shaft to ensure a quick inversion of the rotation of the propeller shaft.
Ahoy! On deck machinery, you'll see our Wichita Clutch AquaMaKKs on winches while our Stromag electric brakes are on cranes
GT: The Wichita Clutch AquaMaKKs is our typical brake for winches.
In this case, we are talking about deck machinery on the deck of offshore support vessels. For example, mooring winches. This is a very high thermal capacity brake because, as you can see, it's water cooled, there is a water jacket where the water is circulating in order to keep the brake at low temperature in dynamic duty – for example, tensioning. And also the copper discs; you can see the discs are made of copper, in order to ensure even higher thermal capacity.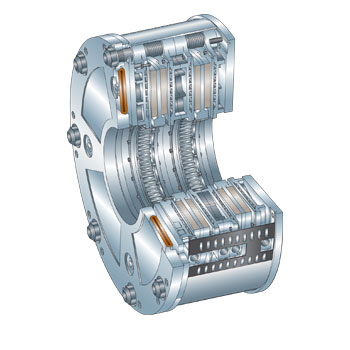 So, this is a very high performing brake ensuring both continuous dynamic duty and dynamic stopping. Very high performance, and proper dissipation of the power.
… Okay and the last of the brakes, we present the Stromag electromagnetic 4BZFM spring-applied brake. So, pure electrification – no oil, no air involved. Very easy to install. A very low-inertia design with a possibility to mount it vertically, and a possibility to protect it against the typical corrosion which is present in offshore environments.
This is the typical brake mounted on the back of the motors – the motors powering the winches – heavy lifting cranes, very important nowadays in the installation of wind farms offshore. So, this is a brake ensuring the crane of the winch can do its job in a proper way. And even in case of power failure, the brake mounted on the back of the motor will be able to stop the load. So, a very important component to ensure that everything is working properly in these complex operations for heavy lifting.
For more information on Wichita Clutch brakes, fill out our virtual contact form today.
To get in touch with a member of another brand, find links to their contact forms below: